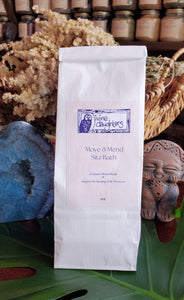 A blend to support the healing of the perineum following childbirth and to alleviate hemorrhoid discomfort during pregnancy and after birth.
A blend of herbs for use in a sitz bath or an infusion can be added to regular baths. Most new parents find massive relief soaking in a tub following childbirth. This blend of herbs includes Comfrey leaf which is one of nature's most powerful vulnerary herbs. It has an ability to mend broken skin that is so powerful it can also be applied topically to assist the restoration of broken bones. Plantain leaves draw out impurities from the skin promoting the movement of stagnant blood aiding the skin around the perineum to restore full health. White Oak bark is an anti-inflammatory which acts to bring down swelling associated with hemorrhoids.

Due to the anti-inflammatory property of these herbs, this blend is also helpful in recovery from mastitis or clogged ducts. Simply apply to inflamed chest as a compress.

Great to have on hand for the third trimester and immediately postpartum.
Ingredients: Comfrey leaves, Calendula, and Yarrow flowers, and White Oak Bark