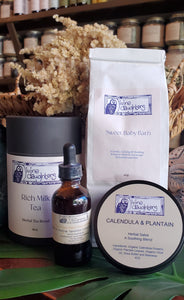 A practical and loving gift for postpartum support and baby. 

Contents:
1. Calendula and Plantain Skin Salve
A soothing and restorative balm to be applied to the nipples in the early weeks of body feeding. Also used as a balm for diaper rash and perineum healing.
Nipple discomfort is commonly noticed among newly lactating parents. This balm is infused with soothing, restorative Calendula. Plantain is an anti-inflammatory that helps with bruising and distressed skin. Our balm is simply a blend of olive oil and beeswax so it is unnecessary to remove it before nursing your baby. This balm can also be used to soothe diaper rash and is particularly helpful in treating yeast infections such as thrush if it is present with you or your baby.
Ingredients: Calendula flowers and Plantain leaves with organic olive oil, Shea butter, and beeswax
2. Open Your Heart-Elixir for Moods
Mood balancing elixir to relieve stress and settle the spirit.
Ingredients: Skullcap and Motherwort herbs, Spearmint leaves, Rose petals and Rose water extracted in vegetable glycerin and 45-55% grape alcohol per volume
3. Rich Milk Tea
A blend of milk-producing herbs to support lactation and amplify flow of human milk. 
One of our most popular teas. Formulated to support the body feeding relationship and increased lactation. 

A blend of galactagogues to support lactation and amplify the flow of human milk. Fennel, Anise, and Fenugreek are galactagogues which are herbs that increase the production of milk. Marshmallow is a demulcent which soothes the track of the milk duct and Red Raspberry Leaf is a nutritive all-round tonic for bodies with a uterus health.

This is a great tea to have on hand for the initial postpartum period to help establish a hearty milk supply or later on. The issue of inadequate milk supply can be revisited many times during the nursing relationship; things like dehydration, anemia, sleep deprivation, going back to work, the return of menses, transitioning to solids, etc. can cause milk production to dip. Wonderful herbal tool for lactation consultants and postpartum doulas. Can be taken consistently for an ongoing basis especially for those who pump frequently.
Ingredients: Fenugreek and Fennel seeds, Red Raspberry leaves and Marshmallow root
4. Sweet Baby Bath
A gentle, soothing and calming blend of flowers for baby's first baths.
Ingredients: Chamomile, Lavender and Hops flowers