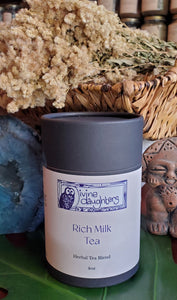 A blend of milk-producing herbs to support lactation and amplify flow of breast milk. 
One of our most popular teas. Formulated to support the chest/breast-feeding relationship and increased lactation. 

A blend of galactagogues to support lactation and amplify the flow of breast milk. Fennel, Anise, and Fenugreek are galactagogues which are herbs that increase the production of breast milk. Marshmallow is a demulcent which soothes the track of the milk duct and Red Raspberry Leaf is a nutritive all-round tonic for women's health.

This is a great tea to have on hand for the initial postpartum period to help establish a hearty milk supply later on. The issue of inadequate milk supply can be revisited many times during the nursing relationship; things like dehydration, anemia, sleep deprivation, going back to work, the return of menses, transitioning to solids, etc. can cause milk production to dip. Wonderful herbal tool for lactation consultants and postpartum doulas. Can be taken consistently on an ongoing basis especially for those who pump frequently.
Ingredients: Anise, Fenugreek and Fennel seeds, Red Raspberry leaves and Marshmallow root
4oz