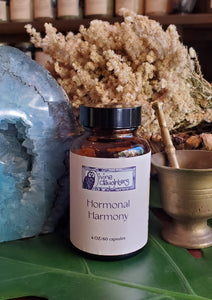 Mood-stabilizing herbal supplement supportive of baby blues, postpartum depression, and low libido.
These caps are for those who are confronted with the massive changing of hormonal tides that occurs with lactation. It is hard to imagine or envision what the 'baby blues' are when we are waiting for our babies to arrive. Then our milk comes in. The shift in hormones that accompanies the onset of lactation is colossal. Maca is a plant that has long been connected to sacred fertility rights. It is a hormonal regulator and an uplifting anti-depressant. It has also been considered the Peruvian Ginseng for its ability to boost energy, a highly nutritive superfood that replenishes depleted resources.

The mix is a wonderful addition to placenta encapsulation. Or it can be easily mixed into nutritive smoothies, yogurt or soups for extra support in postpartum food preparations.
Ingredients: Maca and Shatavari roots - 60 caps.