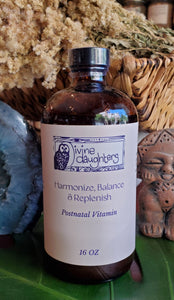 A postnatal vitamin formulated for 1-6 weeks after birth to ground and replenish the digestive, reproductive, nervous, endocrine and urinary systems.
A post-natal vitamin tonic formulated for weeks 1 – 6 after birth. It's a blend of  Astragalus, Shatavari, and Ashwagandha. It builds Chi and balances hormones. Burdock, Dandelion, and Yellowdock, support the liver and kidneys as they are expelling pregnancy hormones and returning to their pre-pregnant function. Anise, Ginger and Fennel help expel gas and support regular digestive function, whilst Marshmallow root is a demulcent that supports the flow of milk through the milk ducts. All these herbs are highly nutritive which contributes to the production of human milk. It offers nourishment for the physical body as well as soothing and strengthening the nervous system.
Ingredients: Astragalus, Shatavari, Ashwagandha, Wild Yam, Burdock, Yellow Dock, Ginger, Marshmallow and Dandelion roots, Anise and Fennel Seeds with Buckwheat honey and 45-55%  grape alcohol per volume
*While all our pregnancy, postpartum formulas contain grape alcohol — which is used to extract the herbal constituents and preserve the medicines— our finished products have as much alcohol as a ripe banana per serving.