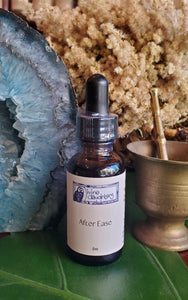 Herbal relief for the cramping that follows childbirth.
After Ease is a superior choice for discomfort immediately after birth and days after as your uterus continues to release. It supports the natural hormonal and physical healing process. Its anti-spasmodic and hormonal balancing formula allows the body to become more receptive to the natural release of endorphins experienced after birth.
Ingredients: Black Cohosh and Wild Yam roots, and Black Haw and Cramp Bark extracted in 45-55% grape alcohol per volume
*While all our pregnancy, postpartum formulas contain grape alcohol — which is used to extract the herbal constituents and preserve the medicines— our finished products have as much alcohol as a ripe banana per serving.