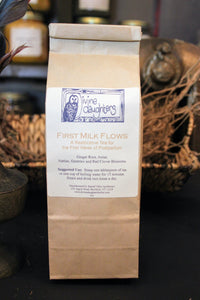 A soothing tea that eases digestion and supports to initiate colostrum.
Childbirth is a huge transition for the body. This blend offers the birthing person nourishment and restoration in preparation for the massive hormonal shift of the milk coming in. Milk usually makes an appearance in the first few days after the baby is born, during that period the body is producing colostrum to provide baby with the first steps towards building a vibrant immune system.

This soothing tea formulated with Red Raspberry leaf a powerful ability to restore and tone the uterus as it recovers from carrying and birthing a baby. Mildly analgesic Chamomile and Ginger are there to sooth the cramping that we continue to experience in these days as our uterus works hard to reduce its pre-birth size. Both herbs also support the digestive system as it shifts from our rib cage to its usual hangout in our lower abdomen. By supporting the digestive system these herbs also smooth the way for the first bowel movement after birth which is often an intimidating aspect of postpartum life. Nettles, Oatstraw, and Clover are in the blend as they are some of nature's most nourishing herbs rich in a plethora of vital minerals and vitamins, iron, calcium and easily absorbed vegetable protein.


Ingredients: Nettle leaves, Red Clover blossoms, Chamomile Flowers, Anise seeds, and Ginger root
2oz.(formally sold in 1 oz quantities but we've heard that 1 oz just isn't enough!!)